---
[Back to "Stages of Pressure Sores"]
Deep Tissue Injury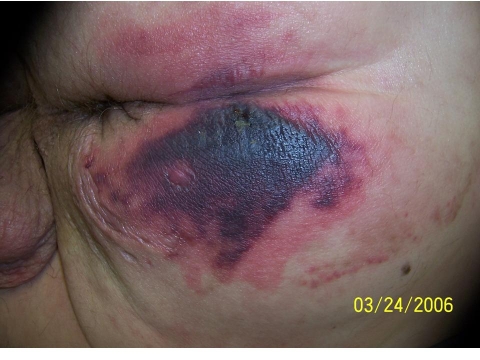 Purple or maroon localized area of discolored intact skin or blood-filled blister due to damage of underlying soft tissue from pressure and/or shear. The area may be surrounded by tissue that is painful, firm, mushy, boggy, warmer or cooler as compared to nearby tissue.
Deep tissue injury may be difficult to detect in individuals with dark skin tones. Progression may include a thin blister over a dark wound bed. The wound may further evolve and become covered by thin eschar (scab). Progression may be rapid exposing additional layers of tissue even with optimal treatment.
Photo source: "Pressure Ulcers" by Judy Farness, et al. Baylor College of Medicine, 2001. Available at http://www.ouhsc.edu/geriatricmedicine/Education/pu/ulcer.htm. Accessed 8/7/09. Used with permission.