New remodel...new independence
Like many others who become paralyzed suddenly due to injury or disease, Larry Mohrman could no longer live in his house after sustaining a C-5 incomplete spinal cord injury in 2003. "It was a two-story home with the main living quarters on the top floor—not at all wheelchair accessible," he said. "A contractor friend told me remodeling it would be too expensive and suggested that I sell the house and buy another one later that could be remodeled more cheaply and easily."
Mohrman went to live in an adult family home after leaving rehab. He worked hard at regaining as much recovery as possible. After 2 ½ years was able to walk 200 feet with a walker, but still used a wheelchair for his primary mobility. He moved to an apartment where he was able to live independently.
In 2007, however, fate struck another blow: "A car hit me while I was in a crosswalk in my wheelchair. This caused further injury, and I can no longer stand, balance or walk due to spasticity. Now I use a power wheelchair fulltime."
After that he started looking for a house to buy—one that could be remodeled for maximum accessibility and independence. "I wanted a one-level, 2-3 bedroom, 1-2 bath house with a 1-car attached garage for storage and 2-car detached garage for his accessible van."
In June 2010 he found what he was looking for in southwest Seattle. "Although it was useless for a wheelchair user when I bought it, I could see the potential if it was done correctly, and the price was right," he said.
His contractor friend, Dean Sander, checked it out before closing and said "Sure, I can make this work."
"My goal was to make it accessible, convenient, safe and fully useable—on a budget," Sander said. "Larry gave me a free hand to do what I thought was best." Sander stripped the house down to the studs and rebuilt the whole interior.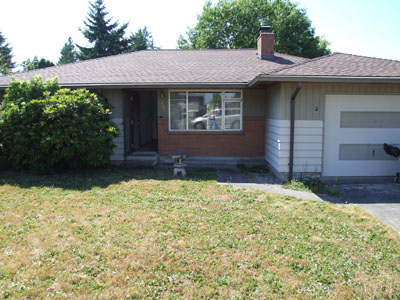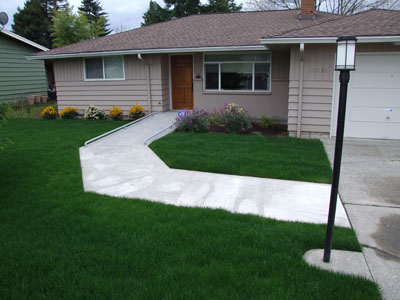 He had done ADA compliance work in the past and was familiar with the codes. "But ADA is just a standard," he said. "It doesn't necessarily work for the individual." For example, there's an ADA-compliant toilet, but the flush is on the right, and Mohrman can only use his left hand since the injury. "I wanted to make sure everything worked for Larry," he said. "I walked through the place daily and put myself in his position."
He removed walls between several rooms, enlarged interior door openings to 36 inches, added concrete ramps and landings with guard rails at both outside doors, installed lever-style door handles, and made all the floors hardwood or linoleum.
In the kitchen he installed a roll-under sink and stove top, custom cabinets and counters, and positioned the oven at a height that was accessible from a wheelchair.
The main bathroom has a custom concrete sloping base, roll-in shower, durable porcelain tile throughout the bath floor and shower walls, cathedral ceiling, both remote and rain-sensor controlled skylight, and single handle faucets and shower mixer valves.
The house has additional accessibility features such as keyed-alike locks for all entrances and remote-controlled garage doors and gas fireplace. It was also rebuilt to be energy-efficient.
Sander has worked on many big projects over the years, including several multi-million-dollar private homes and said, "not one has meant more to me than this one. It opened my eyes and made me aware of what a person with a disability has to go through in life. I've never seen Larry happier. He's independent again."
Mohrman agrees. "It's all perfectly done," he said. He hopes that by sharing his remodel experience with others with SCI, they can see what is possible and how changes in their home can vastly improve their independence, comfort and quality of life.
A word about contractors
When looking for a contractor, it's important to find someone who really listens to you and is sensitive to your specific needs, Dean Sander says. "The remodel has to work. It's not just aesthetics." Sander is happy to talk to people in the Seattle area about accessible remodel questions. He can be reached at 425-443-6204 or dean_sander@hotmail.com.
Accessible Home Design, 2nd Edition, Paralyzed Veterans of America; order at www.pva.org or call 888-860-7244.
Master Builders Association of King and Snohomish County provides practical information and referrals about home building and remodeling. Contact them at 425-451-7920 or http://www.masterbuildersinfo.com/.
"Home Adaptations & Modifications after SCI," SCI Forum presentation, June 12, 2007, Northwest Regional SCI System.
See more resources at http://sci.washington.edu/resources/ housing.asp.