Maintaining Oral Health After Spinal Cord Injury
Contents
Challenges to oral health after SCI
We all want to keep our teeth healthy, but this can be hard to do if you have a spinal cord injury.
Surveys show that dental care is one of the most difficult health care services for people with SCI to access.
Dental facilities, offices, exam rooms and exam chairs may not be accessible to someone using a wheelchair.
Most dental professionals have limited experience and training in caring for people with SCI, and may not understand their special health needs and concerns.
Many of the medications people with SCI regularly take can make them more vulnerable to dental problems.
For people with tetraplegia (quadriplegia), lack of arm or hand function can make it difficult or impossible to brush and floss without assistance.
Caregivers need to be properly trained by dental professionals in how to care for another person's teeth.

Why is oral health so important after SCI?
The condition of a person's teeth and gums can affect overall health in important ways, according to Bart Johnson, DDS, of Seattle Special Care Dentistry, a practice specializing in dental care for individuals with special medical and physical needs.
"Inadequate dental care can cause a build-up of bacteria in your mouth and cause chronically inflamed gums, both of which can weaken the immune system and put you at risk for other health problems, such as cardiac disease" or poor healing. Since a person with SCI is already vulnerable to a host of secondary conditions, maintaining good oral health is especially important.
Accessibility issues
Many dental facilities and offices are not wheelchair accessible. The standard dental treatment room is too small for a wheelchair, and patients usually have to transfer into the exam chair. If they cannot transfer by themselves, they will need assistance; yet most dental professionals have not had training in safe wheelchair transfer techniques.
"We see a fair number of SCI patients because usually other offices are not big enough or accessible," Johnson says. He and his partner, Amy Winston, DDS, designed their office "from scratch" with special needs patients in mind. Located in a new building near University Village, their expansive office has wide doorways, a push-button automatic front door, large exam rooms and personnel trained in proper transfer techniques. Even so, in most cases, patients can remain in their wheelchairs for treatment.
"You can drive a wheelchair into our big room, lean back, and we can swing all the equipment over," Johnson says. "If a lot of treatment is necessary, we can use our Hoyer lift to transfer a patient into the dental chair." They also have a special x-ray machine for full-mouth images that swings into place so the patient can stay in his or her wheelchair.
Insurance coverage can be another hurdle for people with SCI. "Many patients with disabilities are DSHS funded, but a lot of dentists do not accept DSHS patients because their reimbursement rate is so low," Johnson says. While Seattle Special Care Dentistry is committed to serving medically complex DSHS patients, they lose money every time they do.
Medical issues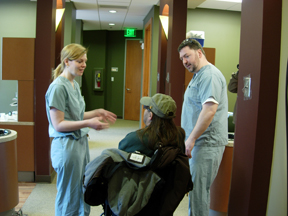 Many dentists are not familiar with the unique medical needs of patients with spinal cord injury. In one study, 90% of the dental professionals surveyed did not know the term autonomic dysreflexia. "Because we know that autonomic dysreflexia can be an issue, we keep the patient monitored and keep the blood pressure cuff on," Winston says. "Most people can feel it coming on, so they tell us and we can stop the procedure or use medications as necessary."
Some common SCI-related medications can take a toll on a person's oral health. "Chronic pain and spasticity medications often cause dry mouth," Johnson explains. "Saliva helps neutralize bacteria, so when saliva is reduced from these medications, decay is rampant."
Johnson and his team look out for this and spend extra time training the patient in proper cleaning technique. They may devise simple solutions when self-brushing is difficult, such as sticking a toothbrush in a tennis ball or using straps and Velcro.
They also encourage patients to bring their caregivers to the visit for training in how to properly care for someone else's teeth. For patients with a high risk of decay, they will prescribe a fluoride tray to strengthen the teeth.
In order to provide the best care, a dentist must get a very careful medical history and know all the medications you are taking. Your dentist must understand your functional abilities and other medical concerns that might affect the dental visit, such as spasticity or the need to do pressure reliefs.
A dentist also needs to be willing to write appeals to insurance companies explaining why extra visits may be necessary for more frequent cleanings or other necessary services. "This takes extra time," says Johnson. "We are able to spend the time necessary and do longer appointments."
How often should someone with SCI get dental care? "This varies by the individual," Winston says. "If someone hasn't been to a dentist for a while, we may start with visits every three months and see how they do."
Since many of their patients come from far away, they often choose to stay a couple of days in Seattle and get all their care done. "Major work can get done in one or two longer appointments," Winston explains, "and maintenance can be done back in their local communities."
For long procedures, their practice is set up to do conscious sedation—a combination of muscle relaxants and narcotics given intravenously—which makes it much more comfortable for the patient and allows the dentist to get more work done. If general anesthesia is required, they have an anesthesiologist available two days a week.
Johnson and Winston were faculty with the University of Washington until 2007. They opened Seattle Special Care Dentistry in January of the following year. About 80% of their practice is made up of medically complex or special needs patients.
Johnson provides continuing education for the dental community in caring for medically complex patients and frequently consults with local dentists about special needs cases. The practice is also a training facility for Swedish Medical Center Dental Residents.
For more information about Seattle Special Care Dentistry, call 206-524-1600 or visit www.seattlespecialcaredentistry.com.
Finding a dentist
It is important to find a dentist who not only has an accessible office, but is willing to work with you and your individual needs. Special needs dentists have expressed an interest in working with this population. When shopping around for a dentist, "ask if they have had extra training in hospital dentistry or caring for special needs patients," Johnson suggests. "You can look on their Web sites and check their resumes. Hospital dentistry requires extra training after dental school."
For more information about special care dentistry, contact the Special Care Dentistry Association: www.scdaonline.org; 312-527-6764; scda@scdaonline.org.
References
Sullivan AL, Morgan C, Bailey J. Dental professionals' knowledge about treatment of patients with spinal cord injury. Spec Care Dentist. 2009 May-June;29(3):117-22.