Spinal Cord Injury Update
Spring 2007: Volume 16, Number 2
Taking Charge after SCI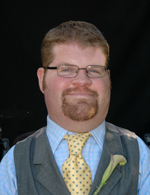 Todd Stabelfeldt is the consummate example of someone who has taken charge of his life under the most challenging of circumstances and has done it with humor and style. At the age of eight, Stabelfeldt was shot in the chin while he and his cousin were playing with guns, resulting in C4 tetraplegia (quadriplegia). That was 20 years ago; now he is a full-time professional, living on his own, financially independent and active in the community.

"I've had a 20-year course in C4 quadriplegia," Stabelfeldt said recently to a UW class of occupational therapy (OT) graduate students. "It's been a difficult course and I wish I could drop out, but I can't. I am paralyzed, and it's rough, and I wouldn't wish it on anybody. But I've learned a ton and feel I can share it with you with the hope that it can help others gain quality in life."

Stabelfeldt has been a regular presenter in this assistive technology class taught by Brian Dudgeon, associate professor of rehabilitation medicine. "I'm a big fan of learning from consumers," Dudgeon says. "Todd tells his story of injury and emergence with a huge reliance on assistive technology and environmental design to enable his employment, self-managed living status and other community engagements. He has been very resourceful in tracking down the technology systems that work for him."

A self-proclaimed geek with a keen sense of humor about himself and life, Stabelfeldt has gained his hard-won independence through sheer grit and moxie, searching out equipment for assistive technology (AT) in unorthodox places, including the maritime and RV industries, and developing creative solutions to accessibility problems. "We live in a really cool time for technology that's available for AT," he says.

Stabelfeldt's entire home is networked so he can independently access and operate his phone, email, photos, CDs, movies and books. A computer screen is positioned at his bedside. "At night I wear a headset. I can turn the fan on via computer interface. If a client calls me at 4 am, I can answer, bring up a screen, and deal with the problem from bed. So much industry today can be applied to my disability and give me independence."

It wasn't always that way. "Growing up in the '80s, the AT was awful," Stabelfeldt recalls. "Childhood for me was not fun, not accessible at all." For years after the injury, "I felt I wasn't in charge of my life, like an infant. I decided at some point to work on my brain. If the vessel is broken, what's inside is not." He obtained computer training and at age 18 landed a programming job with a medical software company. He worked his way up and is now the director of operations.

Stabelfeldt lives by himself in an apartment, with personal care assistance in the morning and evening. He works at home remotely, and periodically comes into the office, commuting alone by ferry. Paralyzed from the shoulders down, Stabelfeldt operates his motorized wheelchair—tricked out with his own setup of fiber optic buttons and voice-controlled communication system—using a chin-control device.

In addition to functionality, Stabelfeldt strives for a certain elegant simplicity in his AT solutions. He avoids overly complicated technology when low-tech works fine, such as hooking up a granola bar to a flexible arm attached to his workstation, so he can bite some off "like a gerbil" when he's hungry.

Stabelfeldt prefers his wheelchair streamlined and aesthetically pleasing, so "when people see me, they focus on the user, not the chair." He designed a custom denim cover for his urine bag, to achieve a less medical look, and because, "I believe you would prefer to see a denim bag than my urine." The bag is attached to his wheelchair with not one, but two hooks. "Who would have thought that urine bag hooks would matter?" he muses. But it does matter, and it's one of those many details he learned about the hard way. "Have I dragged my urine bag behind me for half a mile? Have I run over it? Have I done both these things on a first date? The answer is yes."
He dealt with that awkward moment as he always does, with humor. "Humor for me is huge, a heal-all," he says. "So I said something funny to dispel the tension. But I never did have a second date with her. So the take-home lesson is: The two-hook style urine bag will get you the second date."

Stabelfeldt's sense of style is evident also in his personal appearance. He is usually well turned out in custom-tailored attire; a smart cap, tie and vest; hair and beard impeccably groomed. "I like to smell good and wear nice clothes," he admits. "It's important to me."

He is a fan of Nordstrom, which tailors clothes to work with his body and chair, and where he is always treated with respect and professionalism. "I'm treated like a regular customer at Nord strom," he says. "I wheel in there, and I feel great."

Relying so heavily on AT to maintain his independence, Stabelfeldt is meticulous about safety and emergency preparedness. A backup system of individual batteries linked together and charged by regular electricity can keep all his equipment running in case of a power outage. "I'm a redundancy guy," he admits. "I do everything by Internet, and don't want to lose connectivity if there's a power outage. I want backup on everything. I have done three-day outages successfully."

And while batteries are expensive, cumbersome and have an unpredictable lifecycle, "you can't put a price on independence and security," he says. "I use Bi-PAP (a ventilator device) at night, so battery back-up is a lifesaver."

Financially independent, receiving no government support or benefits, Stabelfeldt is unusual for someone with his disability, according to Dudgeon. "I know of no other men with such high level SCI who are as successful as Todd in employment, living status, and community involvement. The independent and resourceful manner in which Todd developed these skills is unique."

Stabelfeldt is eager to share his experiences and lessons with a wide audience so others can benefit. In addition to his full time job, he is a motivational speaker who delivers compelling and humorous speeches to high school and youth groups. At the UW's Northwest Regional Spinal Cord Injury System, he is an SCI peer mentor, member of the Consumer Advisory Board, and a frequent SCI Forum participant. He wants to spread the word, not only about the wonders of AT solutions for people with disabilities, but also about the personal rewards of overcoming adversity of all kinds.

"Todd's desire to influence young people is impressive," Dudgeon adds. "He uses his heartfelt story and humor to provide a very frank and open presentation of a life that dealt with this enormous challenge, but is nevertheless a life everyone can learn from."