Exercise Program
Development of a regular exercise program to improve overall health is a crucial aspect of wellness regardless of ability. Exercise promotes heath, protects against disease and maintains and/or improves function and independence in individuals with spinal cord injury.
The purpose of the Transitions exercise program is to promote health after spinal cord injury by offering two 50-minute exercise classes a week using adaptive equipment. The primary focus of this class is to help clients who have sustained a spinal cord injury understand the importance of regular exercise and develop an exercise program for strength and endurance that can be performed at home.
There is no charge to participate in the exercise classes thanks to funding from a grant from the Craig H. Neilsen Foundation; a generous gift from Mr. Kenny Salvini, his family and friends; as well as other private donors.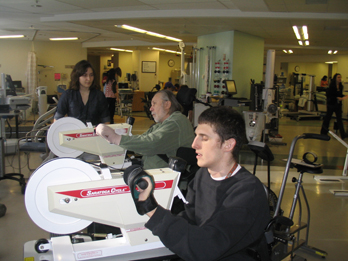 Class format
Class size will consist of up to 5 people with spinal cord injuries. Classes will take place in the rehab gym, where several stations will be set up that allow clients to perform different strengthening and endurance activities. Trained volunteers will assist participants at each station.
The class will be run by a licensed physical therapist who will be monitoring tolerance to the activity and determining the proper progression of activity. Clients will not be working on functional skills, as they would in a typical physical therapy session. Instead, the classes will focus strictly on exercise and the development of an exercise program that clients will be able to perform at home.
Eligibility to participate:
The client must have a referral from their UW or HMC SCI provider prior to participation in this exercise class indicating he or she is fit to participate.
The client must be able to participate in a pre-screening physical evaluation with the site coordinator prior to participation.
The individual must have a spinal cord injury, which can be either complete or incomplete.
The spinal cord injury can be complete or incomplete.
The individual must be a Rehabilitation Medicine patient at the University of Washington Medical Center or Harborview Medical Center.
The individual is at least 18 years old and able to sign a consent for participation.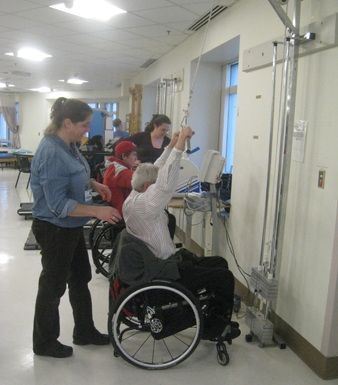 Class times
Every Monday and Wednesday from 4:00 pm to 5:00 pm
There will be ongoing enrollment to add individuals to the class.
There will be no class on state holidays.
Class locations
University of Washington Medical Center
1959 NE Pacific Street
Pacific Tower 8 E gym
Coordinator: Paul Marek, PT, NCS
Harborview Medical Center
325 Ninth Avenue
4 Maleng Building
Coordinator: Kristin Kaupang, PT, NCS
Length of participation
Typical length of participation is three months.
Contact for further information
Email: sciwell@uw.edu
Phone: 206-744-2060
If the exercise class is full, clients will be placed on a waiting list. Individuals will be contacted by the site coordinator when an opening in the exercise class occurs.
Equipment
Motomed, vitaglide, arm ergometer, wall weights, Rickshaw, free weights / cuff weights and theraband training center.