Hospital cafeteria (Plaza Café) conference rooms A, B and C
UW Medical Center
1959 NE Pacific Street, Seattle, WA 98195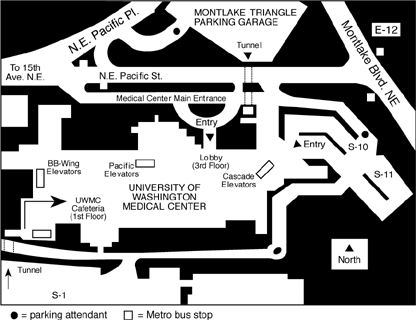 Park on the M level of the S-1 Lot, accessible from 15th Ave. NE. Parking stalls for persons with disabilities are along the north wall.
Parking costs $5 for the evening (starting at 4:00 pm). Pay at the Gatehouse before parking.
Take tunnel labeled "Hospital" into RR wing.
Take RR elevator up to 1st floor.
Go down the hall from the elevator; the hospital cafeteria (Plaza Café) will be on your right.
For more driving information and maps, go to the Getting to the UW Medical Center web page.
To request disability accommodation contact the Disability Services Office at least ten days in advance at: 206-543-6450/V, 206-543-6452/TTY, 206-685-7264 (FAX), or dso@u.washington.edu .