Directions to the SCI Wellness Summit at South Campus Center
South Campus Center (SCC), 3rd floor, check-in Room 316
(SCC is located behind the Health Sciences Building.)
University of Washington
1601 NE Columbia Rd., Seattle, WA 98195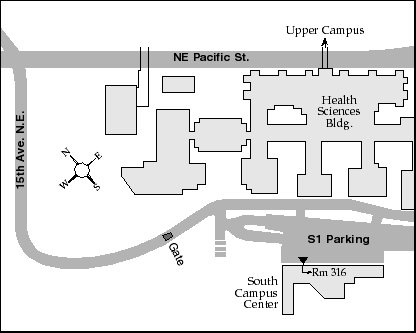 Note: Parking is free on Saturdays starting at 12:00 noon.
Park on the top level of the S1 parking garage, accessible from 15th Ave NE.

Enter the South Campus Center. You will be on the 3rd floor if you entered from the top level of S1 parking.

Follow signs to the Summit.

For a bigger map showing the location of South Campus Center within the UW campus and the University District, go to the UW map website (http://www.washington.edu/maps/) and enter "South Campus Center" in the search box.
To request disability accommodation contact the Disability Services Office at least ten days in advance at: 206-543-6450/V, 206-543-6452/TTY, 206-685-7264 (FAX), or dso@u.washington.edu.